Biloxi Blues

Presented by the Neil Simon Festival: Second in Neil Simon's semi-autobiographical comedy trilogy - winner of the Tony Award for best play.

Reduced pricing Wednesday & Thursday! Some adult language and situations. 8pm Shows, 6pm Sunday.


Event Showtimes:
Ages: 13+ Ages
Wednesday & Thursday pricing: $15 - House; $19 - Preferred Front of House; $25 - Cabaret tables at front of stage.
Friday - Sunday pricing: $19 - House, $23 - Preferred Front of House, $29 - Cabaret tables at front of stage.
Tickets increase by $5 half hour before show time.
All sales final - NO REFUNDS! Exchanges may be made for a different date, same show only.  $5 per ticket exchange fee and based upon availability.  See box office policies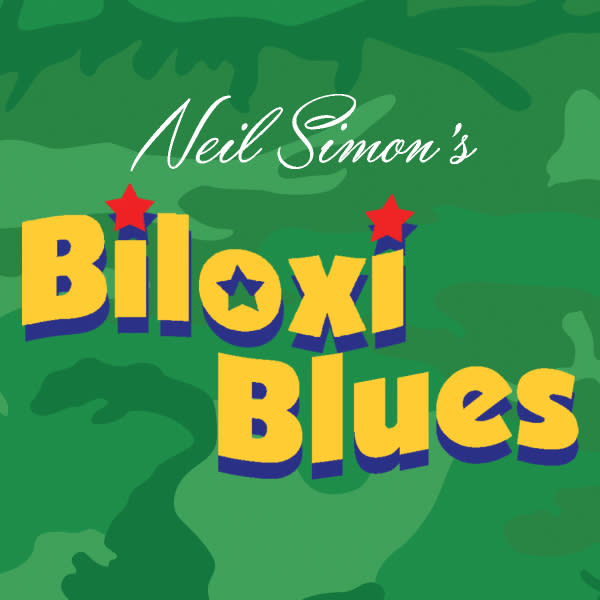 Biloxi Blues is a semi-autobiographical play by Neil Simon. It portrays the conflict of Sergeant Merwin J. Toomey and Arnold Epstein, one of many privates enlisted in the military stationed in Biloxi, Mississippi, seen through the eyes of Eugene Jerome, one of the other soldiers. This play is the second chapter in what is known as his Eugene trilogy, following Brighton Beach Memoirs and preceding Broadway Bound, and is the only one in which Eugene is not the central character. The play won the Tony Award for Best Play, and Barry Miller won a Tony Award for Best Featured Actor in a Play for his performance as Arnold Epstein.
The story begins with 18-year-old Eugene Morris Jerome from Brooklyn, who is drafted into the United States Army during World War II and is sent to Biloxi, Mississippi for basic training. There he meets a diverse assortment of soldiers, including the gentle and intelligent Arnold Epstein, who is the play's central figure. The piece portrays Epstein's struggle for power with middle-aged, hard-drinking platoon leader Sergeant Merwin J. Toomey. In a memorable scene, Epstein manages to force Toomey to perform two hundred push-ups in front of the platoon.
"Joyous and unexpectedly rewarding"-The New York Times.