Hot Tuna - Acoustic Duo

Living legends Jorma Kaukonen and Jack Casady, forming members of Jefferson Airplane, bring their bluesy fusion of rock, free rhythmic techniques, and a collected timbre of instruments to our intimate stage.

Reduced pricing Thursday & Friday. 8pm nightly.


Event Showtimes:
Ages: All Ages
Thursday pricing: $43/House & Balcony; $53/Front of House; $65/Cabaret Table
Friday pricing: $49/House & Balcony; $59/Front of House; $70 Cabaret Table
Saturday pricing: $53/House & Balcony; $65/Front of House; $75/Cabaret Table
Tickets increase $5 half hour before show time.  All sales final - no refunds!  Exchanges may be made for the same show, different date only.  Must give box office 24 hours notice of original ticket date.  Based on availability and $5 per ticket exchange fee plus price difference.  See box office for all policies.
Artist website: hottuna.com ; jackcasady.com ; jormakaukonen.com
Videos: "Hesitation Blues" Live Acoustic ; "Water Song" Live Acoustic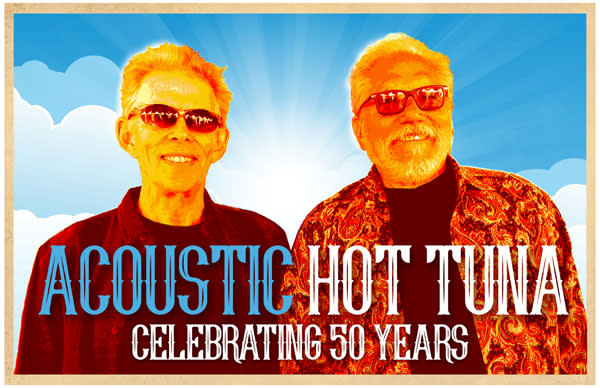 Hot Tuna, Jorma Kaukonen and Jack Casady, perform with a well-honed and solid power – always in the groove from their years of experience and mutual inspiration. Started as a side project during Jefferson Airplane days, the constant, the very definition of Hot Tuna, has always been Jorma Kaukonen and Jack Casady. The two boyhood pals have never wavered in one of the most enduring friendships in Rock history.
     From their days playing together as teenagers in the Washington, DC area, through years of inventive Psylodelic rock in San Francisco (1996 Rock and Roll Hall of Fame Inductees), to their current acoustic and electric blues sound, no one has more consistently led American music for the last 50 years than Jorma Kaukonen and Jack Casady, the founders and continuing core members of Hot Tuna. At the 2016 Grammys, Jorma Kaukonen and Jack Casady were honored with Lifetime Achievement Awards.
"Jorma Kaukonen is a force in American music, equally adept at fingerpicked acoustic folk and blues as he is at wailing on an electric."  – Acoustic Guitar
     Guitarist and vocalist, Jorma Kaukonen is a highly respected interpreter of roots music, blues, Americana, and popular rock-and-roll.  Jorma's repertoire goes far beyond psychedelic rock; he is a music legend and one of the finest singer-songwriters in music. Jorma tours the world bringing his unique styling to old blues while writing new songs of weight and dimension.
"Jack Casady is virtually unparalleled–and yet he has one of the most truly unique electric-bass voices in rock...he can melt into a supportive role but when opportunity knocks, he bursts forth with creative lines–both simple and ornate–that are unlike any you've heard"  – Premier Guitar
     One of the most unique innovators in the sixty-year history of the bass guitar, Jack Casady made his sweeping melodic mark helping to create the "San Francisco Sound" with legendary rock group Jefferson Airplane. Jack went on to track with Jimi Hendrix, Crosby, Stills, Nash & Young, Warren Zevon, members of the Grateful Dead, John Lee Hooker, and Gov't Mule. Casady, regarded as one of rock's greatest bassists, is certainly one of its most original.
"Hot Tuna is a Psychedelic-Blues Institution" – Rolling Stone Magazine