The 5th Dimension

With over 20 million records sold worldwide, 22 Top 40 Hits and 6 GRAMMYS, this legendary band continues to awe sold-out audiences with their amazing harmonies and showmanship! Hits include Aquarius & Wedding Bell Blues.

8pm nightly


Event Showtimes:
Ages: All Ages
Pricing: $45/House; $55/Front of House; $65/Cabaret Table Seating
Tickets increase $5 half hour before show time.  
All sales final, NO REFUNDS!  Exchanges may be made for the same show, different date only.  Based on availability and 24 hours notice must be given to the box office prior to original ticket date + $5 per ticket exchange fee.
Artist Website: http://5thdimensionlive.com/
Wiki page: https://en.wikipedia.org/wiki/The_5th_Dimension
Videos: "Let the Sunshine In" Live 1969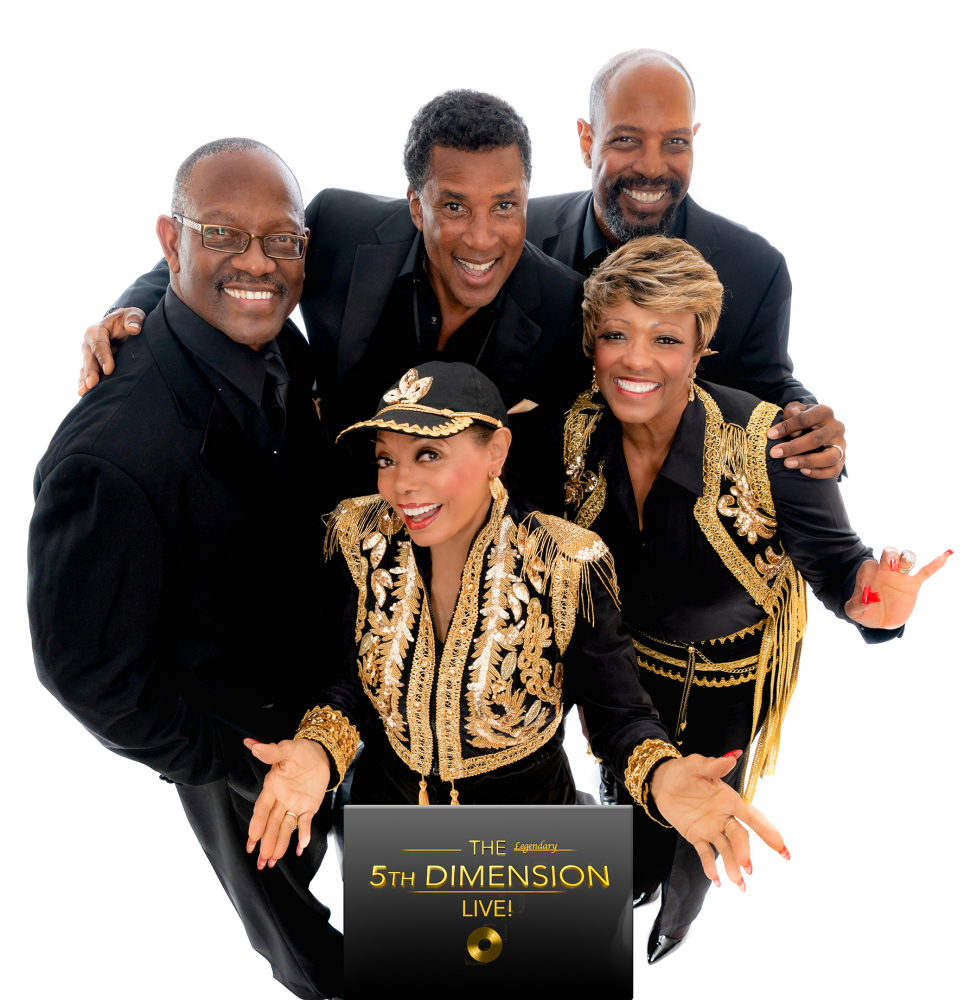 "Classy" is the word used over and over to describe THE 5TH DIMENSION. With over 20 million record sold worldwide, 22 TOP 40 Hits, 5 No. 1 hits and 6 GRAMMY'S, THE LEGENDARY 5th DIMENSION continues to awe sold out audiences with their amazing harmonies, immaculate showmanship, and exciting energy wherever they perform. Their classic songs include: "Up, Up, and Away,""One Less Bell to Answer," "Last Night I Didn't Get to Sleep At All," "Wedding Bell blues," "Stoned Soul Picnic," and the iconic "Aquarius/Let the Sun Shine In."
THE 5th DIMENSION'S impressive resume includes memorable performances on some of the world's most prestigious stages, including the Royal Albert Hall in London, England, the Hollywood Bowl, the Greek Theatre, Radio City Music Hall and multiple stages in casinos in Las Vegas, Atlantic City and Canada. The group also boasts many television appearances over the past decades including the Ed Sullivan Show, PBS performances, Good Morning America, The Grammy Awards show, and the Frank Sinatra Special (after a European tour with Mr. Sinatra).
The 5th DIMENSION has received many accolades for their performances, including, induction into the Vocal Group Hall of Fame, citations from cities across the nation, induction of "Up, Up and Way" and "Aquarius/Let the Sunshine In" into the Grammy Hall of Fame, and a star on the Hollywood Walk of Fame.
In 2015, original member and lead vocalist, Florence LaRue will celebrate 50 years with the group. With Leonard Tucker, Patrice Morris and Floyd Smith and Sidney Jacobs, she has put together a show with more vocal range than ever and material that is fresh and varied. Much to the audience's delight, she works hard to remain true to the sound of THE 5th DIMENSION's original recordings, and performs their hits in their entirety. It's no wonder THE 5th DIMENSION continues to appeal to audiences of all ages and nationalities. Reviewer David Spats of the Atlantic City Press said it best with his critique: "Personal changes have done little to affect the overall quality of THE 5th DIMENSION'S sound. The blend of voices is giving THE 5th DIMENSION a well-deserved reputation for producing some of the cleanest sounding music of this era. The group consists of five very different personalities and contrasting voices that have set a standard for musical quality few groups could ever hope to match."