DeVotchKa

DeVotchKa (Russian for "Girl") is an American four-piece multi-instrumental and vocal ensemble based in Denver, Colorado. Composed/performed most of the Grammy nominated soundtrack for "Little Miss Sunshine."

Reduced priced tickets Thursday and Friday. 8pm nightly. NO OPENER! Masks strongly recommended while in theatre. PHARAOH MEMBERS RECIEVE BEST SEATING!


Event Showtimes:
Ages: All Ages
At artist's request Vaccination cards or 24 hour negative test required for entry.  All patrons must be masked!
Thursday pricing: $23/House & Balcony, $29/Preferred, $35/Cabaret Table Seating
Friday pricing: $27/House & Balcony, $35/Preferred, $43/Cabaret Table Seating
Saturday pricing: $33/House & Balcony, $39/Preferred, $49/Cabaret Table Seating
Tickets increase by $5 half hour before show time.
All sales final, NO REFUNDS! Exchanges may be made for the same show, different date only.  Based on availability and 24 hours notice must be given to the box office prior to original ticket date plus any price difference and $5 per ticket exchange fee.
Artist page: https://www.devotchka.net/
Wiki page: https://en.wikipedia.org/wiki/DeVotchKa
Videos: "Empty Vessels" Music Video ; "Straight Shot" Live 2018 ; "The Clockwise Witness" Live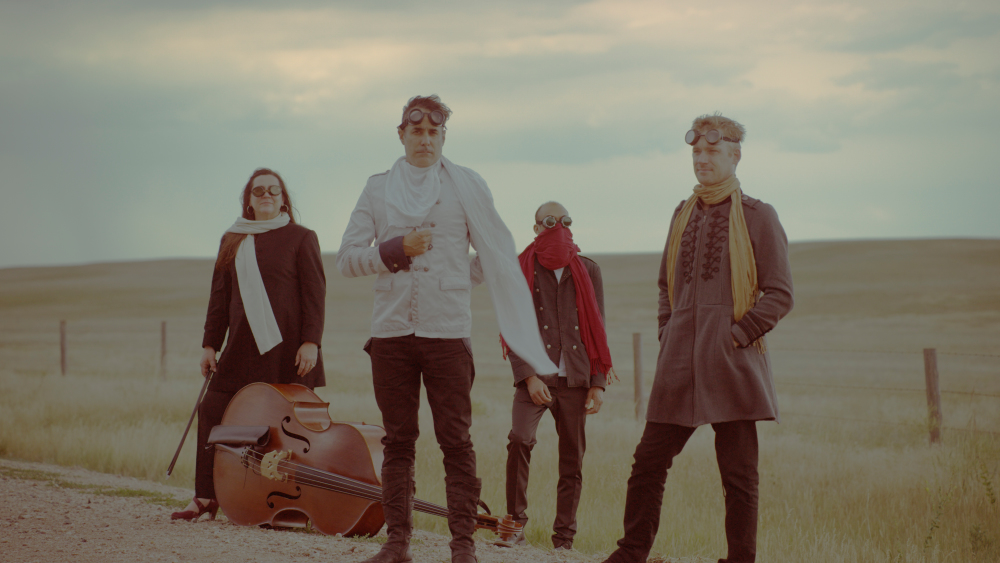 A  cross-pollination of numerous influences, including cabaret, spaghetti Westerns, norteño, punk, and the immigrant dance music of Eastern Europe, Colorado-based quartet DeVotchKa, formed in Denver by multi-instrumentalists Nick Urata (vocals, guitar, trumpet),  
Tom Hagerman (violin, accordion), Jeanie Schroder (sousaphone, bass) and percussionist Shawn King, emerged as unlikely indie heroes in the mid-2000s infusing modern indie music with a global flavor.
They found widespread success in 2006 with their Grammy-nominated soundtrack to the hit indie film 

Little Miss Sunshine. Signing with revered indie, Anti-, the band delivered 

A Mad and Faithful Telling

 in early 2008, reaching the number nine slot on the Billboard Heatseekers chart. A lengthy world tour followed, including stops at major festivals like Bonnaroo, Lollapalooza, and Bumbershoot. After doing more soundtrack work, this time for the 2009 comedy 

I Love You Phillip Morris

, the group returned to the studio for 2011's moody and triumphant 

100 Lovers

. Embarking on another world tour, they collaborated with the 

Colorado Symphony

 on the 2012 concert album 

Live with the Colorado Symphony

. Over the next several years, 

Urata

 became increasingly involved in his own film composition career, scoring movies like 

Crazy Stupid Love

, Whiskey Tango Foxtrot, 

Paddington

, and the Netflix series 

A Series of Unfortunate Events

. Meanwhile, the band regrouped for a lengthy recording session, eventually returning in 2018 with their sixth album, 

This Night Falls Forever

, this time via Concord Records.