The Family Stone

Rock and Roll Hall of Fame Inductees - The Family Stone boasts founding member Saxophonist Jerry Martini, the catalyst for their formation back in Hippy San Francisco and the Golden Age of Psychedelic Soul!

Thursday - Saturday at 8pm, Sunday at 6pm. Reduced priced tickets Thursday, Friday, Sunday. PHARAOHS RECEIVE BEST SEATING!


Event Showtimes:
Ages: All Ages
Thursday pricing: $39/House; $49/Preferred; $59/Cabaret
Friday & Sunday pricing: $45/House; $55/Preferred; $65/Cabaret
Saturday pricing: $53/House; $59/Preferred; $69/Cabaret
Tickets increase $5 half hour before show time.  All sales final, no refunds!  Exchanges may be made for the same show, different date only + $5 per ticket exchange fee and any price difference.

Website: http://www.thefamilystonemusic.com/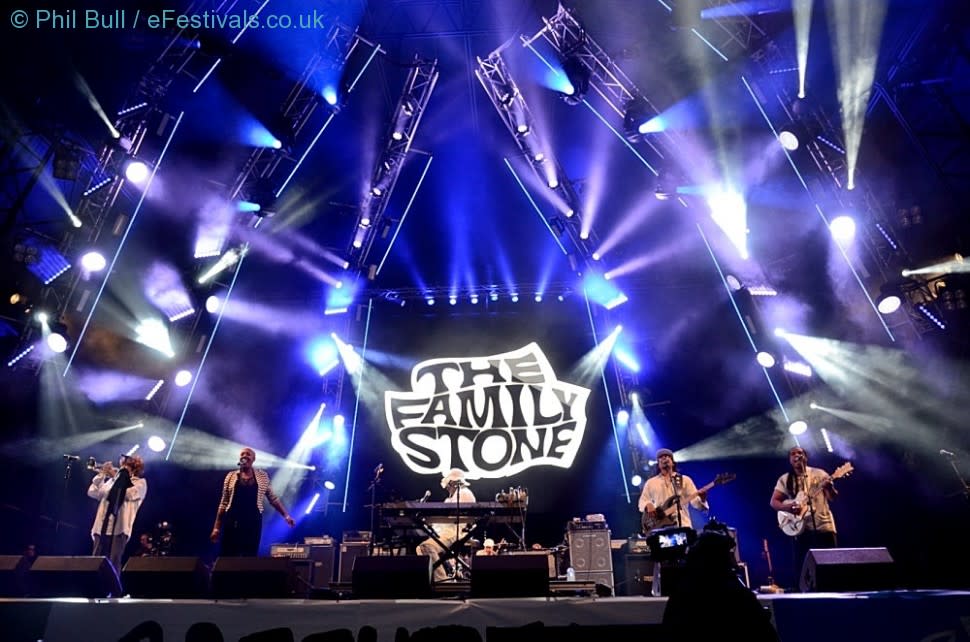 Rock & Roll Hall of Fame inductee, R & B Pioneer Award Winner, and original founding
member of Sly & The Family Stone, Jerry Martini, along with Phunne Stone (The Multi-talented
daughter of Sly Stone and the late great Cynthia Robinson) bringing the music of the first interracial,
main-stream major band in Rock & Roll history the chart-topping hits of Sly & The
Family Stone. These Funksters are joined by the powerful voice of Swang Stewart and Phunne
Stone on vocals, bring a message of peace, love, and social consciousness, through musical
harmony with some of the funkiest players of all time. ROCK & ROLL HALL OF FAME
INDUCTEE Jerry Martini Big Sax, Jimi McKinney on Keys, Frank of Funk Klepacki on Drums,
like Nate Wingfield on the Guitar, and on Bass, Blaise Sison adding the dynamic sound of The
Family Stone Band sound!
The raw, unfiltered original sound that became part of the essential building blocks of many, if
not most, of the great modern artists toolkits. Sampled and covered by major artists around the
world, the influence of their music and sound is immeasurable in the development of modern
music as we know it today. Shaping the music of artists like Michael Jackson, Janet Jackson,
Prince, The Jackson 5, Miles Davis, Run DMC, Dr Dre, snoop Dogg, Chuck D, John Mayer,
John Legend, Madonna, Aretha Franklin, Doris Day, Lenny Kravitz, The Roots, The Beastie
Boys, 2Pac, The Gorillas, Digital Underground, LL Cool J, Ice Cube, Fat boy Slim, A Tribe
Called Quest, Arrested Development, Maroon 5, Brandy, Cypress Hill, Public Enemy, Missy
Elliot, NWA, De LA Soul, Ice T, Kid Rock, Coolio, Queen Latifah, The Beach Boys, Massive
Attack, Tony! Toni! Tone! , Black Uhuru, Will I Am, Outcast, Cee Lo Green, Steven Tyler, and
countless other mainstream top 40 artists too numerous to mention. Legendary Anthems like "I
Want to Take You Higher," "Everyday People," "Thank You Falettinme Be Mice Elf Agin,"
"Dance To The Music," "Hot Fun In The Summertime," "Family Affair," "Sing a Simple Song,"
and many other instantly recognizable tunes from their vast catalog of albums including the
album "STAND" which in 2015, was declared a National Treasure, preserved in The United
States Library of Congress. In 2015, "STAND" was also inducted into The Grammy Hall of
Fame. Keeping the legacy true to its original sound and raw funk groove, these "Everyday
People" will naturally "Take You Higher" with a musical experience that has brought them in
front of millions of people through Europe, Asia, Australia, The USA, and The Caribbean;
appearing at massive gatherings like WOODSTOCK, Glastonbury, Coachella, Stern Grove,
Tokyo Jazz, Electric Picnic and Harvest Festival, while also enjoying smaller intimate Jazz clubs
like Ronnie Scots, Demetriou's Jazz Alley, and Ophelia's; spreading the roots of funk that is
truly a revolutionary act of music going onstage.